So you have just arrived in Seminyak for the first time and you are wondering what to do. Here's a general guide to the options around Seminyak in nightlife.
Seminyak is the more laid back and sophisticated part of south Bali. It's north of Kuta and was originally the area inhabited by the European expats frequenting Bali's shores. They brought with them the new electronic sounds and European dining.  Now it's a growing metropolis where you will find all the best that the world has to offer from food, shopping, beaches and the famous Seminyak nightlife.
Sunset hotspots
Sunset starts the action and is a good warm up for the Seminyak nightlife. Try the restaurants on the Double Six/Blue Ocean strip for the hubbub of racket ball playing Euros and the buzz of the beach scene. The restaurants are good enough and the price is right. Try Blue Ocean, Pavilion, Zanzibar or Doublesix Rooftop with its sweeping ocean views, are all good. Move along the beach north and get a seat at La Plancha or the myriad beach side cafes along that stretch. Cheap beers, food, and find exactly what a lot of people coming to Bali are looking for along this stretch of beach. Sunset drinks and food are also good at Ku De Ta, Potato Head Beach Club, and W Retreat's Woo Bar with DJs chilling the tunes and great dining – all in the Petitenget area. Further north, down Jl Batubelig you can find an old Bali style sunset beach bar called 707 and Il Lido that plays tasty sounds and are always busy with expats and tourists around sunset. The newly opened Mari Beach Club and Cafe del Mar (further north) is busy every day now and sunset with more house techno flavours and special guest DJ events.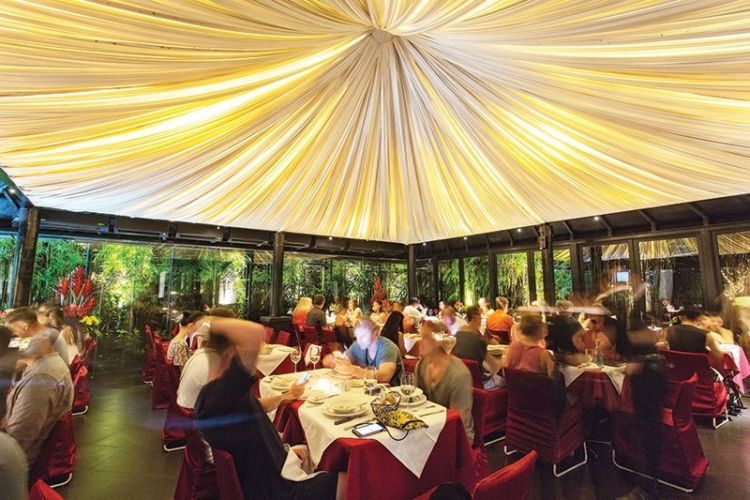 Dining in Seminyak
As the sun sets and the tummy rumbles it's time to find some grits. 'Eat Street' or Jl. Laksmana in Oberoi/Petitenget is the place to set your sights. The entire street is full of great food at great prices. The pick of the bunch are Ultimo, winner multiple times of the best restaurant in The Beat Awards and always packed, Italian Affair also a good Italian, Rumours for the young crowd, Bistro Batu Kali for the families etc, and across the road Char Char Grill & Bar is pretty awesome too. There are many more restaurants along Eats Street like Bistrot, Soho, Meja, Bar 68, Cafe Bali, and Junction House – all good value and tasty fare. Also another restaurant, Batik is well worth a visit. For higher-end dining Seminyak is also the place to be with some of the best dining on the island, if not the world, on offer. Try KU DE TA and their Mejekawi restaurant, The Legian, La Luciola, Saigon Street, W's Starfish Bloo, Merah Putih, Sarong, Metis and Sardine along Jl Petitenget. Also along Petitenget is Ling Ling's and the new Shooters. Then Mamasan and their new sister Thai restaurant, Som Chai are along Jl Kerobokan, where you won't be disappointed.  Not far from there and a casual option is the new offing from KZU, Japanese WabiSabi.  Also Gado Gado and Moonlite at Anantara down Jl Dhyana Pura are also top notch dining experiences. Another spot in Seminyak for dining and a touch of Bali history is Made's Warung on Jl. Raya Seminyak for an authentic Bali experience.

The Seminyak nightlife
So now you've had something to eat, it's time to look for the Seminyak nightlife. Early discounted drinks are available at Rumours from 10pm and many other venues – check the beat daily events for more Happy Hour and daily events info. The Red Carpet Champagne Bar at the beginning of Jl Ayu Kaya (Eats Street) is a popular spot with an older crowd, busy most nights. They also have a late night spot called Red Carpet Late catering to the older and more well heeled crowd. Over the road La Favela is the happening spot for the hipsters, expats and tourists with two levels of hip hop and commercial sounds. The venue is enormous. On the 3rd floor of La Favela is Attika with underground house/techno sounds. Directly across the road is Los Gringos, a hip hop/commercial tequilaria that packs 'em in, even on the tables! (Gringos is temporarily closed and moving down the road 50 metres to new and larger premises. Opens again April/May) Envie Lounge is next down the road a bit further, a stylish venue with spectacular 3D mapping on their ceiling, catering to the local and tourist crowd with EDM and hip hop tunes. KU DE TA has DJs spinning every evening during sunset and dinner in a more relaxed environment – they also have special guest DJs on some weekend nights. Hotel Mexicola is up the road and famous for their massive parties, Mexican food and cocktails.  Up Jl. Petitenget, Mrs Sippy is a popular day/pool club that offers great tunes, cocktails and food all day and up to 10pm,  Potato Head Beach Club is always packed thru the day and especially around sunset with electronic sounds and the occasional big live music and dance parties. (More live music options can be found here). Red Ruby is next, popular with the expat and tourist crowds, the house/techno club kicks off around midnight inside the club and the out front Terrace bar and restaurant is always busy from earlier too. The new ShiShi three floor lounge and club opened in November and has quickly become the place for a stylish night out in Petitenget. Wednesday Ladies Night (where groups of ladies enjoy a free bottle – if reserved before) and the weekends, with a top line-up of guest DJS, are pumping in both the house and hip hop rooms. The Woo Bar at W Retreat Bali's entrance is right next door with house music every night in front of the beach and regular guest DJs in the basement club. Mirror plays mostly EDM, tech house and sometimes hip hop and caters to a more up-market mix of locals, expats and Jakartans on holiday. Jungle on the Umalas short cut still has their Friday nights (with a mainly Russian crowd) but seems to be more a day club nowadays, while Who's Ya Daddy on Jalan Petitenget is pumping with the Italian crowd on Fridays. Da Maria continues to rock on Sunday nights with electronic sounds and the Seminyak fashionable crowd.
And for the alternative scene you can't go past the bars and clubs of Jl Dhyana Pura, highlights F Bar and Bali Joe, where everything you desire if you're that way disposed will be lined up along the strip – it can also be a lot of fun for straighter folk too. Santa Fe still pulls a crowd looking for live music. And let's not forget Opera, the only late night spot nowadays playing underground sounds till very late – as they say, till breakfast.
Seminyak still offers the high-end nightlife of Bali, with stylish, upmarket clubs and restaurants serving the finest food, drinks, entertainment and classy electronic music. Be sure to dress up if you are out for a big night.
Enjoy the Seminyak nightlife and click below for more nightlife tips around Bali