Beach clubs have taken off in the past few years around Bali's southern coastal area and have helped to create a new term, daylife, in lieu of nightlife, and with it has come a healthier, sun-soaked lifestyle mixed with some of the most breathtaking venues on the island, if not the planet! We start with the beach clubs on the southern Bukit. 
THE BUKIT, SOUTH BALI
El Kabron
500k++ Minimum Spend
10am – 10pm
If what you're looking for is a massive 180-degree sunset view from the top of a cliff, El Kabron is your top choice. Enjoy the views overlooking Bingin beach, poolside from the iconic infinity pool with a sangria and tasty Spanish fare to pair. Make sure to try one of their paellas, croquetas and don't forget to choose an excellent wine from their extensive wine list!
Ibiza in Bali
Free Entry
Minimum Spend Depending on Season
11am – 1am
If you are a fan of the famous Mediterranean vibes Ibiza brings, you can count on Ibiza in Bali to combine the two islands with absolute synchronicity. Set in Jimbaran, expect Balearic beats alongside Spanish bites and a gorgeous view of the Jimbaran bay and beachfront ahead. It's all about lush surroundings accompanied by good food and drink, swimming up to the glass aquarium pool, laying on the lavish day beds and partying at night with resident DJs. Ibiza in Bali is exactly what the name suggests!
Karma Beach
350k Entrance Fee
9am-10pm
For an awe-inspiring natural view and private shores, head to Karma Beach! Karma Beach is styled after a sensual, wind-swept beach cabana, tucked away in a secluded shore on the southern coast of the Bukit – which requires you to travel down their limestone cliff with an inclinator! Its white washed timber and bamboo furnishings make for an elevated, laid-back jet set experience, gifting intimate seclusion. When it comes to culinary, Karma kicks on with an exquisite Mediterranean and Asian flare.
Manarai Beach House
Free Entry
IDR 1.5 Million Minimum Seating Spend
9am – 1am
The premiere beach club in Nusa Dua, offering panoramic views over two dazzling swimming pools and into the calm warm waters of the Indian Ocean. Manarai have upped the food game in Nusa Dua with their Michelin-trained chefs and quintessential comfort food ranging from French, Japanese and Italian cuisines and modern Balinese specialties. Not to mention the incredible cocktails like our favorite C-Cup. Experience this tropical oasis on any day of the week for a 5-star experience on the beach in one of the most stylish settings in Bali.
Omnia Day Club
200k Entrance fee
IDR3000k ++ Minimum Seating Spend (Incl. 4 pax)
11am – 10pm
The hype is all justified at Omnia. This now internationally renowned venue, birthed by the leading nightlife and dining brand Hakkasan Group was the company's first venture into day life, and it has become an absolute powerhouse destination for the global club and entertainment scene. The Omnia experience is jaw-droppingly luxurious and spectacular, with constant big events and headlining acts, world class culinary and drinks to indulge in, including the famed Sake no Hana that's overlooks the day club! Omnia is situated on Bali's prime south cliff edge coast, boasting unparalleled views of the Indian Ocean, and let's not forget that cube. Wow!
Roosterfish
Free Entry
10am – 7pm
This playful venue invites guests to the dramatic cliffs and endless white sandy beaches of Pandawa for a slightly more relaxed vibe than your usual Bali beach club! Roosterfish is the perfect spot for a family getaway or a romantic day by the beach.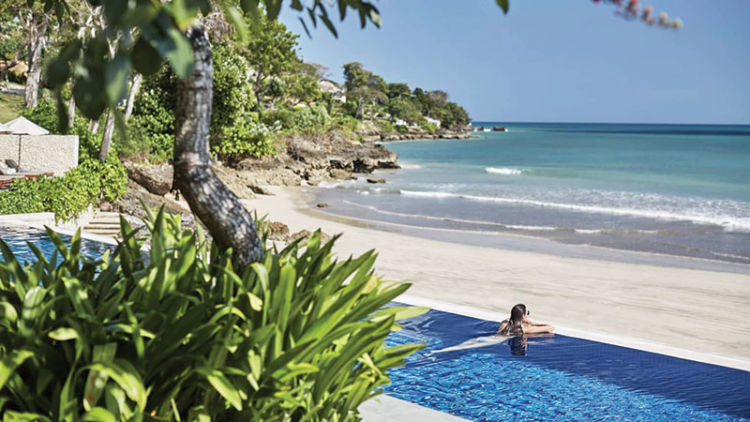 Sundara Beach Club
Free Entrance
980k++ Minimum Seating Spend
Sundara is nestled on the beautiful white sand curve of Jimbaran Bay, as a part of the Four Seasons Hotel. This upscale, all–day dining and lifestyle destination definitely lives up to its Sanskrit name, which translates to "beautiful" with its lush flora surroundings, 57 meter beachfront pool, sparkling surf and spectacular sunset views. The sultry beach club also serves as one of Bali's best restaurants by night, with a menu that intertwines regional flavors and sources ingredients responsibly; intricately curated by award winning chefs. If you're searching for silky sands, five star service and luxury, Sundara is the one!
Sundays Beach Club
400k – 450k ++
9am – 10pm
As they say, every day is Sunday at Sundays Beach Club and it offers relaxing and classy moments on the beach or in the beach club restaurant. Relax to cool live music or DJ tunes, eat fresh seafood and tasty creations at the bamboo restaurant and enjoy beach bonfires in the evenings. You can also enjoy a luxury spa treatment in the shade of the exclusive Spa Bale overlooking the beach and ocean. Watersports are also available at Sundays, and you can take out a kayak or stand up paddle board at low tide or swim or snorkel in the crystal-clear lagoon.
Ulu CliffHouse
Free Entrance Fee
7am – 10pm
If you're hopping over to the southern coast, you're likely to come across Ulu Cliffhouse! What we love about Ulu Cliffhouse is how it best embodies the laidback, effortless beauty of Uluwatu life, creating a playful yet intimate space that features a 25-meter infinity pool, cliffside ocean deck with direct beach access and open-air dining. Check out their Cliff restaurant, that integrates fresh, fun, locally sourced ingredients to their culturally diverse menu. Oh, and did we mention their half off Fridays? Enjoy half priced drinks from 4pm till late!
CANGGU
Café del Mar
Minimum spend Rp 150k pp from 4 to 7pm.
Lounges min spend Rp 500k 2 pax.
Daybeds min spend from Rp 2 million.
Open 11am to 10pm daily.
Cafe del Mar is the brand new kid on the block. It was born in Ibiza and is now a franchise in many parts of the world. The Spanish styling is cool, the European cuisine in their newly opened fine-dining restaurant is excellent, and the pool side cabanas, sun lounges, daybeds, booths and even suites offer some very tasty international beach club favourites. And don't forget, the sounds from the Café del Mar stage and DJ console are some of the sexiest in town. Watch out for their big, international DJ events.
Como Beach Club
500k ++ Minimum Seating Spend
7am – 11pm
If you're looking for a breathtaking, A-list clientele destination in Canggu, Como Beach Club is your new-found haven. The bold beach club is framed by the quieter breaks of Echo Beach and boasts a beautiful interior with its swanky, swinging day beds and vibrant decor patterns by Italian designer Paola Navone. Seize the sunset with class cocktails and some of the Island's finest live music, while unwinding by a picturesque poolside. When it comes to the club's culinary experience, Como is sure to tantalize with their new eclectic menu selections that source high quality, fresh regional ingredients. Don't miss this contemporary, cool venue!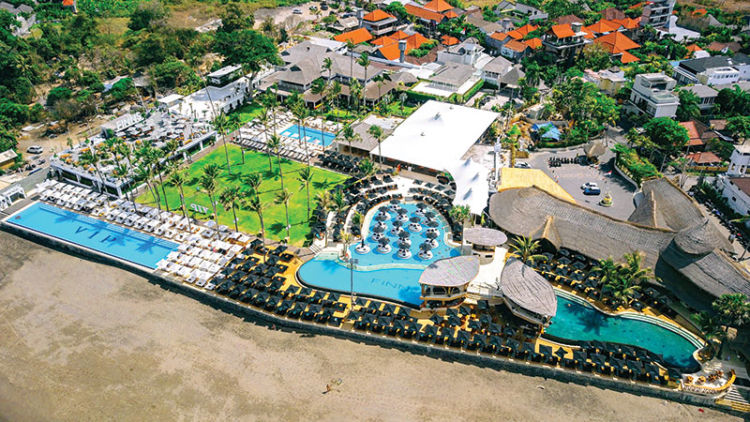 Finns Beach Club
Free Entry Before 7pm
750k++ Minimum Seating Spend
9am – 11pm
Finns is the busiest beach club in Berawa, continuing to grow and evolve into a mega tourist destination. The stylish bamboo structure and super-large swimming pool are packed out with bronzed Aussies, classy Euros and dashing domestic Jakarta types every day of the week and especially sunsets. Expect cocktails by the beach, an array of cuisines at the handful of restaurants on offer, Defected style house sounds, live music from the speakers and an amazing 180-degree Indian Ocean view with some of the best Canggu surf right in front of the horizon pool and under lights!
Finns VIP Beach Club
Free Entry before 7pm
VIP Ocean Front Day Bed IDR 3.4 Million
9am – 11pm
If you're looking for a more exclusive and elite vibe, Finns VIP sits right next door to the main beach club and offers a total VIP experience. Soak up the sun like a celebrity on one of the grand white day beds, drench yourself in the lavish five-star facilities and services like the world-class spa, gourmet dining options and grand picnic area. Or enjoy the best sunset viewing point on the upstairs Champagne bar deck. For a more private affair, The Presidential Suite, secluded from the other VIP areas offers a spacious and luxurious space complete with a rooftop Jacuzzi!
La Brisa
Free Entry
200k ++ Minimum Seating Spend
7am – 11pm
Bohemian beach vibes, crafty cocktails and almost 100% recycled materials make up the revered La Brisa, overlooking the best surf breaks in the area of Echo Beach! La Brisa has got that famous aesthetic synonymous with stellar eco-friendly décor, trendy clientele and outstanding hospitality that its sister venues La Favela and La Plancha behold. La Brisa has quickly become the go-to beach club in Canggu, due to its incredible ambience, Spanish-Mediterranean menu and top-quality parties all throughout the year.
The Lawn
350k ++ Minimum Seating Spend
10am – 11pm
Let's talk ocean front grazing, an infinity pool, quality tunes and cool crowds – The Lawn is a staple Canggu golden hour go–to. This minimalist inspired breezy beach club offers a full day to night experience, with multiple areas to chill as you please. For sun seekers, they offer day beds, cabanas, as well as picnic–styled, beach chair lounging. If you're bringing around the fam, check out their sunset deck and dining areas. The Lawn is also famed for their epic musical events, Saturday and Sunday breakfast feasts and party hearty evening; "Lawn Fridays".
SEMINYAK
707 Beach Berm
Free Entry
10am – 8pm
Bringing back the old-school Bali vibes, the 707 Beach Berm reminds us of a simpler time, with nothing but good vibes, cheap drinks and an authentic Bali crowd. Local resident DJs play everything from chilled house to thumping melodic house & techno, making for quite a cool bar to watch the sunset and party into the night! If you are looking for a casual spot to have some beers and a bite with a cool crowd, 707 doesn't disappoint.
Alila Seminyak Beach Bar
Free entrance
650k++ Minimum Seating Spend
11am – 11pm
Beat the Bali heat at Alila Seminyak's Beach Bar! Situated within the Alila Seminyak Hotel, this venue is a fantastic space to gather around for a fun yet chilled out sunset session. Sink into the comfort of their daybeds and cool by the pool or at a beachfront armchair with an aperitif in hand. You can then tuck into their daily barbeques by the beach, locally inspired beach bites and ravel in their gin and tonic club promotions – all the while grooving to some of the Island's best live music talents. Revel and relax in the Alila experience!
Ku De Ta
Free Entry
8am – 2am
Ku De Ta offers great views of the Indian Ocean and Seminyak Beach along with top quality service with impeccable taste and elegance. The first beach club of its kind in Bali, it's always ahead of the game – whether it's the forward-thinking food and drinks, famous parties or the unique romantic vibe it offers for sunset and into the night. Enjoy breakfast or brunch by the pool with a large selection of grazing bites, Japanese rolls, pizzas or fine-dine in the main, indoor and outdoor restaurant area or head up to the incredible Mejekawi on the second floor for a mind-blowing dinner experience.
La Plancha
Free Entry
10am – 12am
One of the most O.G. sunset spots in Legian. Before there were any beach clubs on the island, La Plancha was the spot where the trendiest people enjoyed sunset. These days it is packed to the brim every day with the iconic rainbow coloured umbrellas and beanbags, making for a homey, humble spot for tourists to bask in the last rays of the day and into the night. Revel in Spanish tapas, cheap drinks and surfers by the sea in front, it doesn't get more classic Bali than La Plancha.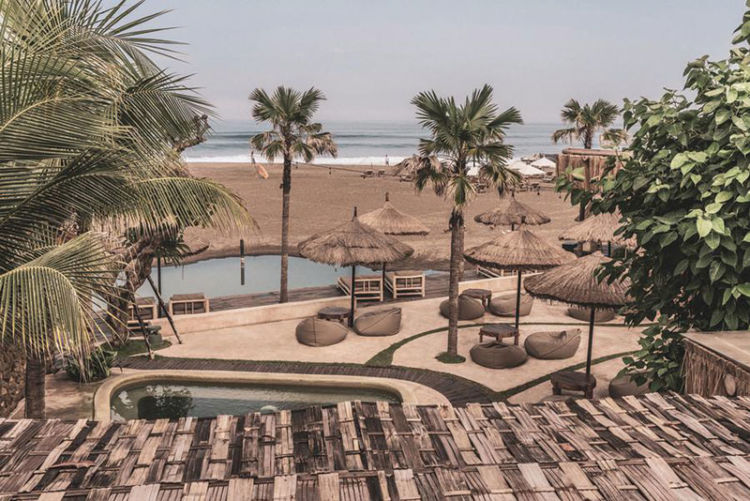 Mano Beach House
100k Minimum Spend
8am – 11pm
Live life on the slow at Mano Beach House. Their newly renovated beachfront boho-chic oasis is a golden hour gem situated on Petitenget Beach. This beach house embraces togetherness and serves as the perfect space to gather your tribe around for some sunset sangrias and sophisticated cocktails, paired with their contemporary comfortable all-day dining menu. From breakfast to dinner, you can indulge in international selections with a distinctive local flair. Check out their Wednesday event "Mano Sundown" for live tropical acoustic tunes and Sunset Anthems with their tasteful resident DJs from Thursday to Sunday.

Potato Head
Free entry
500k++ Minimum Seating Spend
10am – 2am
Situated on the beachfront in Seminyak, Potato Head Beach Club is busy every day of the week and deservedly so. Being one of the pioneers of using recycled materials and keeping it classy, their modern, tropical atmosphere screams sustainable luxury and their endless options of drinks and food will have you overstaying your visit with ease. It gets very busy around sunset so make sure you get there early just to get in.
Also check the brand new, beachside space at their new resort right next door.
Tropicola
400k++ Minimum Seating Spend
11am – 10pm
Press your best party print shirt; Tropicola is a celebration of colors and endless summer vibes! This party popping paradise is a sister venue from Motel Mexicola, situated on the shores of Batu Belig and built from multiple inspirations such as Miami, Palm Springs, Tulum and Playa del Carmen. This insta-famous, technicolored venue sure knows how to pump up a pool party with resident DJ's and occasional special guests on deck duty. Soak up the sun around Tropicola's two pools, three bars and fuel up with drool worthy beach shack bites!
Other areas around Bali
Komune
Free entry
300k++ Minimum Furniture Spend
6am – 11pm
Strategically situated in front of one of the islands best right-hander waves, Komune is east Bali's most famous beach club. Known for their mega-chilled vibes, infinity pool overlooking the action in the ocean and range of delicious western/Indonesian food on offer. Not to mention being a hot-spot for big events such as the WSL surf contest and music/yoga festivals alike.
ABC Artotel
200k++ Minimum Furniture Spend
8am – 10pm
Set in Sanur, this 7,000 square-meter beachfront oasis displays jaw-dropping views, featuring a designer swimming pool and a boutique store, as well as tantalizing food and drink options from its two-story restaurant and four stunning bars. On the culinary side, Belgian-born Chef Manuel Effendi has used his skills to create a Tropical Comfort menu which feature an extensive usage of fresh produce, exotic fruits, vegetables and herbs.