The Best Nightclubs in Bali [Updated Aug 2019]
Here is a list of the best nightclubs in Bali (in alphabetical order). They are basically the only clubs there are on the island and they each offers something a little different in the Bali nightlife. Check out the details below to find the best nightclubs in Bali for you.
Bali clubbing has come a long way since the early days of progressive house and psy-trance to what's now the booming EDM hurricane that took over most of Kuta nightlife, as well as the sophisticated techno and house crowd that continues to grow in Seminyak and Oberoi. International DJs from all over the world regularly visit the island and we are also lucky enough to have many great international and local resident DJs playing in the clubs all around town. Find yourself on a dance floor with an array of people from any given place on the planet, dance to the music you like or find a club near you to let loose with some friends. Bali clubbing is always growing in many ways but the Bali nightlife has always had a special international spark and we are happy to offer you a list of the island's current hotspots.
2019 has been a year of change. A lot of late nightclub venues have been closing in Bali this year for many reasons, no doubt, but there does seem to be a shift towards beach and day clubs, which may be having a short term effect on the island's nightlife. Read below for the latest happening late night spots.
Attika
Attika is on the third floor of La Favela and is a techno/house/underground haven for those trying to escape the rowdy commercial sounds downstairs. The stylish surrounds and the finely stocked bar and drinks they offer cater to a more stylish crowd of party goers.
Genre: house, techno
Jalan Kayu Aya 177x, Seminyak. Tel: 0361 730603.
Envie Lounge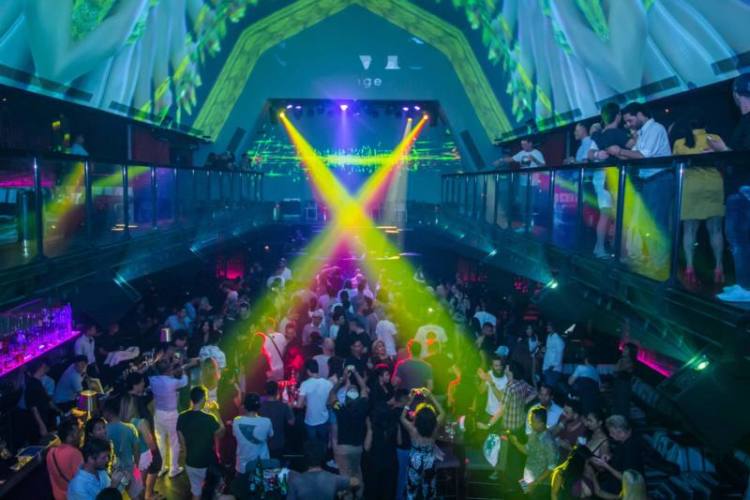 En Vie Lounge is the place you are looking for when searching for a stylish venue for an early cocktail or maybe a late nibble around 10pm, or a collection of Bali's top DJs, live music and international artists until late. A luxury destination in the heart of Seminyak.
Genre: RnB, hip hop, house
Jalan Kayu Aya No.33. Tel: +62 812-4611-9870
F Bar
This small club on Bali's alternative strip, Dhyana Pura, catches a crowd most nights of the week and features guest DJs most weekends.
Genre: House, Funky House, EDM
Jalan Camplung Tanduk, Seminyak.
Jungle
One of the most happening outdoor venues on the island in terms of banging techno. Club area is only open on Fridays until 3am. Developments in early 2018 saw the rice field club expand into a day club with a pool. Open every day between 8.30am – 11pm.
Genre: techno, house.
Jalan Umalas 1, Kerobokan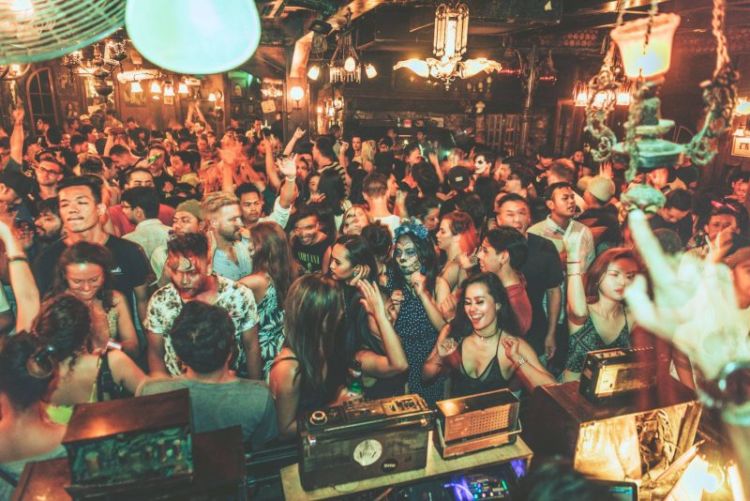 A wondrous multi-story venue with a retro/jungle-like ambiance, open every night of the week, pulls crowds from all over town and the planet with hip hop, RnB, house and the classics always keeping the multiple dance floors full. Third floor Attica has some underground sounds. Not much of a dress code. La Favela is packed every night.
Genre: Top 40, RnB, deep house and techno upstairs.
Jalan Kayu Aya 177x, Seminyak. Tel: 0361 730603
LXXY
LXXY Club on Jalan Legian, Kuta has two main areas. The upstairs, outdoor pool and chill zone where house music is found and the downstairs pumping main club room with banging big room sounds. There is also a mezzanine floor to escape the crowd for a breather. Great venue in the heart of Kuta.
Genre: EDM, progressive, trap, hip hop, house.
Jl. Legian 71, Kuta.  Tel: 0813-1003-0066
The cathedral-like building that houses Mirror brings the upper class house and EDM loving market to their doors every weekend. Regular international acts and bottle service. Classy atmosphere, no Bintang singlets or sandals in this place – they won't let you in through the door in either.
Genre: EDM, progressive, trap, hip hop, house.
Jl. Petitenget 106. Tel: 0361 8499 799
Red Carpet Late
Red Carpet Late is part of the Red Carpet Champagne Bar and is open from 12am till late. Commercial sounds for an older crowd. Intimate and cozy club space with sunken dance floor. Private booths and bottle service available.
Genre: RnB, top 40 club hits.
Jalan Kayu Aya 43, Seminyak
Red Ruby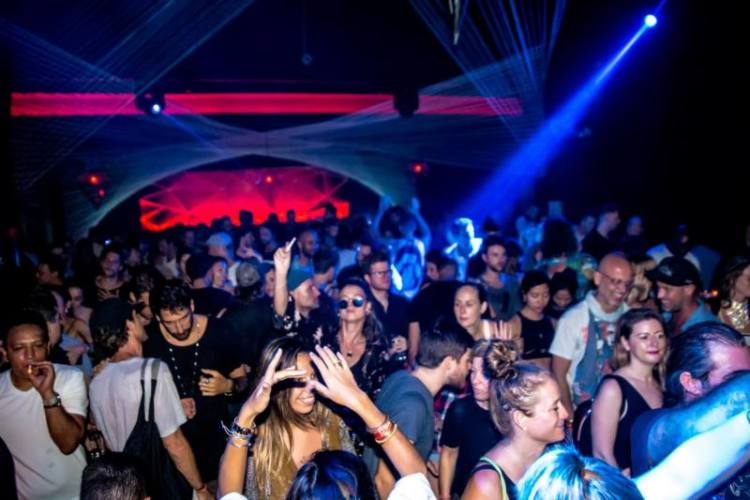 RED RUBY is a house & techno music club with resident DJs and international acts. Hear your favorite classic and funky house or downright dirty techno on Wednesday – Sunday 10pm – 4am. Terrace open all week 6pm-1am.
Genre: Techno, house, tech house, hip hop.
Jl. Raya Petitenget 919 Seminyak Kuta. Tel: 081 238 959 89
Sky Garden is the biggest club on the island. Four floors, countless rooms with different genres on every level. Main room is Sky Dome, which can fit over two thousand guests and hosts international DJs every weekend, if not every night of the week. Sky Garden is a Bali institution.
Genre: Top 40, progressive, EDM, electro, house, hip hop, techno, RnB, deep house.
61 Jalan Legian, Kuta.
Vault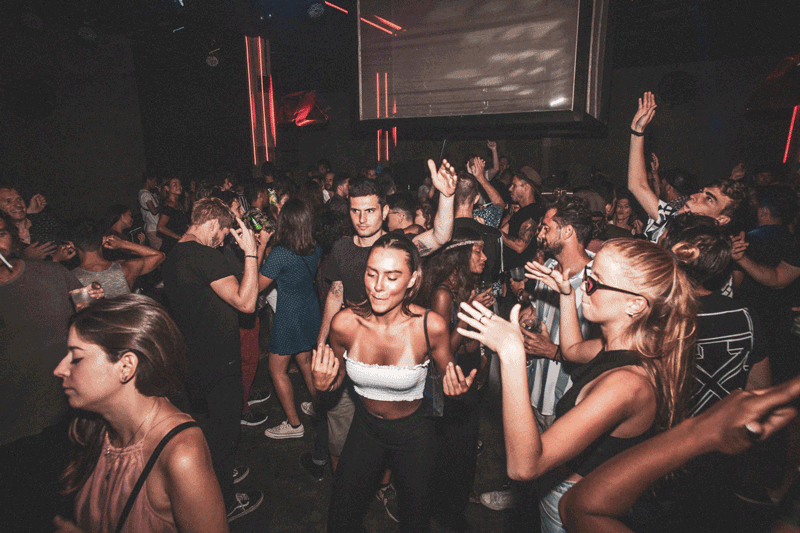 Vault is one of Bali's newest underground clubs, boasting international acts on weekends and genres spanning from everything hip hop to house & techno. The Vault cocktail bar next to the club is open early weeknights.
Genre: tech, house, hip hop, techno, RnB, deep house.
Jalan Pantai Berawa no.99. Berawa, Canggu.
Vi Ai Pi is a very local club with live music earlier and then the electronic music is rolled out later. Being right in the heart of Kuta there are a few foreign tourists in there too. There is a great balcony spot out the front to watch the world pass by at all hours too. Vi Ai Pi is known for their fashion shows on the weekend nights and loads of bangin' edm.
Genre: live bands, big room, EDM, hiphop.
Jalan Legian, Kuta.
Eat, drink, flirt and play at Woobar. A three-storey epicentre of partly al-fresco fun in the sun – or at sunset. Sightsee and sip from the sky deck atop the club and boogie to top International DJs spinning live mixes at the beachside area or later downstairs in the bunker. The SPF party and Sunday Sessions are always something to look out for!
Genre: House, techno, tech house.
W Bali-Seminyak, Jalan Peitenget, Seminyak.