Canggu: What's Hot Day & Night. Updated Nov 2018
So it's your first time in the bustling Canggu area and you want to know where to go and what to do. First, Canggu is divided into two areas, Berawa in the south and Batubulong/Echo Beach areas in the north. Here is the complete guide to the best eating from breakfast to dinner, the vibed sunset locations as well as the full Canggu party guide.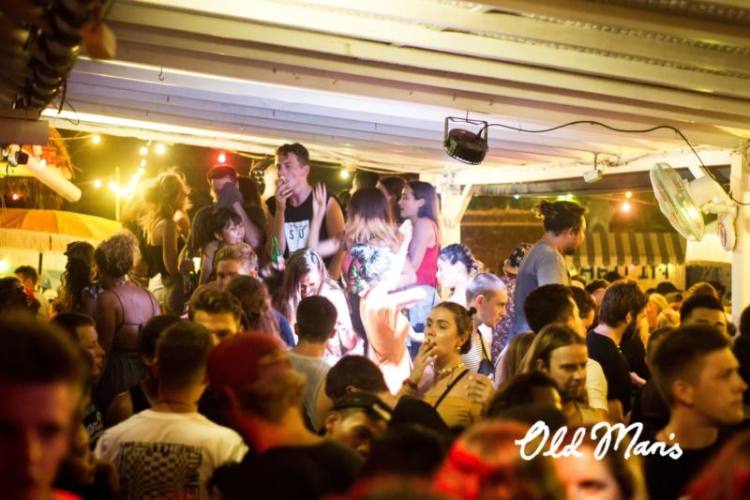 Breakfast
Let's start off with the most important meal of the day, breakfast. If you're staying near the Batu Bolong, which is the most popular and busy strip in Canggu, there are a lot of options. Crate Café is popular for its bang-for-buck, Instagram worthy breakfast and lunch meals. Nearby cafés The Loft, Vida and Betelnut also provide delicious breakfast dishes and great coffee.
Moving south across the shortcut road to the Berawa area. Breakfast at Hungry Bird is probably the most affordable, popular with the local surfers and travellers for their cheap food and tasty home-roasted coffee. Moving down the road towards the intersection of Pantai Berawa is Musubi, a Japanese fusion restaurant that's a bit pricier, but it's still great value for money and perfect for an interesting brunch. At the next intersection, near the Finns Rec Club end, you'll find Peloton, a plant-based restaurant that even has the carnivores among us coming back for more, seriously inventive and tasty treats morning to night.
Lunch
When it comes to lunch in Canggu you can't go wrong with the staples; Shady Shack, Mai Tai, Laca Lita, Koi and The Slow. The list goes on and on. Whether you're looking for a rice field terrace view or a secluded place for an intimate lunch, Canggu boasts so many different concepts and styles of food. If you're in the mood for Italian; La Baracca, Bottega Italiana or Pizza Fabbrica are all great choices in the area.
You wouldn't want to miss the real MVP or champion though. While enjoying all the international variety of foods in Canggu, you have to try the local foods, too. Some great Indonesian warungs are Bu Mi, Varuna, Jaba, Oma Jamu and Heboh to name just a few.
Heading back Berawa is easy, just drive down the "Canggu shortcut" (preferably on your bike and watch the edge) and you'll stumble across the likes of Milu by Nook, Nude, Milk & Madu and Finns Recreation Club. Finns serves a mean smoked BBQ selection as well as vegan delicacies.
Sunset Spots
Don't miss the sunset before heading out to dinner. Some popular spots are the Naked Coconut beach strip in Berawa, where all the locally owned shacks or beach warungs serve ice cold beers and coconuts, and mix it with the Berawa big daddy, Finns Beach Club. If you're looking for something a little fancier, with great cocktails and grand locale, next door's Finns VIP Beach Club has an elevated 180° sunset rooftop that will blow your mind. Other cool spots for sunset are The Lawn, Tukan, Ji, La Brisa or Como Beach Club part of the Como Uma Canggu hotel.
Dinner
Dinner in Canggu can go a few different ways, you can spend a bomb or go on the cheap. If you're feeling like some impressive local-inspired feasting try Fish Bone Local, Ulekan or Moana. All of which have a great setting for a date and drinks as well. Not to mention, the newly opened Mason, serving modern Australian cuisine from their marble open kitchen. The Tugu's restaurant Ji is well known for its top-quality Japanese cuisine and historic structure.
If you're in Berawa for dinner don't over-look TYGR or One Eyed Jack for some more grub Japanese. TYGR being the least expensive of the three. Pantai Berawa has plenty of restaurants with dinner options, but the stand-outs are Green Ginger, serving humble but delicious Asian styled vegetarian food, Macan, the French restaurant with an Asian touch and Indigo, a pricy, but good value for money restaurant dishing up a fusion of French x Japanese cuisine.
Canggu Nightlife
When it comes to parties, you are bound to find something going on any night of the week. Disguised as a pizza place (the pizza is incredible btw), Luigi's Hot Pizza kicks off the start of week with the PNNY crew every Monday night from 8 – 12pm playing eclectic house beats to jackin' techno. If you are up for a late-night boogie, head down to the bottom end of the Batu Bolong on any night of the week, where Old Mans is situated and you are sure to find a vibrant party scene. Old Man's is also busy from sunset.
Wednesdays are one of the biggest nights of the week. With mounds of people all over the streets. Covering venues like Pablo's for their #Rumbleinthejungle hip hop night from 8 – 12pm. Old Man's Dirty Ol' Wednesdays where the Beer Pong Championship takes place. Enrol yourself before dark and battle it out with dozens of other players for great prizes and lots of fun. If you are into techno then visit Vzletnaya next door. And end up at Sandbar where commercial music goes on until about 4 – 5am.
By the time your hangover from Wednesday is over, it'll be Thursday night and the gnarliest spot on a Thursday is Pretty Poision. Think backyard skatebowl meets European dungeon nightclub. Tattoos, skate bowl action and live DJs playing everything from rock & roll, hip hop to techno. Walk over to Black Cat Mini Market next door and check out their fridge in the corner for a cheeky surprise.
If you're looking for the most packed party on a Friday night, The Lawn is the place. Friday nights go till 1am with half price on selected drinks and a range of disco, house, RnB and hip-hop tunes. Previously mentioned Pablo's have their house music nights, while Old Man's continues to pack in the crowds throughout the entirety of the night with their live music night. Live rocking bands can also be found most nights at Made Jay's Gimme Shelter. Hard techno can be heard at Vzletnaya until 4am. And as per usual, Sandbar picks up the late-night party people to end another wild night in Canggu.
Saturdays can be a bit of a hit and miss sometimes. But not to worry, Pretty Poison opens up and caters for all your party needs till 12pm. Afterwards, your best bet is the Batu Bolong parties mentioned previously or head towards Seminyak and Kuta.
Sunday's are actually a lot of fun. Deus are the pioneers of Sunday nights in Canggu. They boast beer on tap, a large crowd of expats, tourists and locals with live music action. Deus also host Tuesday nights with free tattoos and tacos. Head down towards Old Man's for groovy house music and top 40 hits down by the beach at Sandbar.
That wraps up our tour through Canggu, remember to stay safe and don't drive if you're drunk. Have fun out there!