Bali Nightlife
Bali nightlife is centred in the south tourist areas of Kuta, Seminyak, Sanur and Nusa Dua. The most happening nightlife in Bali is the west coastal strip of Kuta and Seminyak. This area has grown over the years from a dry, coconut tree lined area of farm land and rice fields to one of the most vibrant nightlife zones on the planet featuring great restaurants, live music, shows and above all, electronic music clubbing.
The Kuta and Seminyak nightlife scenes are basically divided by age, class and wage cheque.
Kuta
Kuta is the original party zone of Bali nightlife and the place that back packers, surfies and first time visitors invariably arrive for their first taste of Bali. Cheap accommodation, cheap beers and buzzing at all hours with people from all parts of the world is what Kuta is all about. Kuta nightlife rocks seven nights a week. And it's the only place in Bali that does rock seven nights a week, Monday to Sunday. The dress code is casual; wear your shorts, T-shirt and why not, the ubiquitous Bintang singlet if you are so inclined and you will feel right at home.

Seminyak
Meanwhile, Seminyak has always been the more sophisticated end of Bali nightlife. Luxury villas, classy people and fine dining are de rigueur in this sometimes pricey and up-market enclave of expats and higher-end tourists. The street hawker dudes are already spreading from Kuta to Seminyak and little tourist kiosks are popping up all over the neighbourhood so it won't be long till the borders are blurred between the two, but for now, Seminyak and the areas north are still the more relaxed and comfortable places to be. It's the place to get dressed up in your coolest linen for a night on the town. Having said that, though, Seminyak nightlife is only really busy from Wednesday till Saturday nights.
Canggu
Canggu is just north of Seminyak and has fast become the new playground for the laid-back style, international and younger tourists flocking to Bali. Loads of hipsters, surfies and Euros are riding around on their bikes, no-helmets, shirts off looking for hotspots like Old Man's, Deus, Betelnut and a whole bunch of new western influenced bars and restaurants like Seminyak fifteen years ago, but with a modern twist. Berawa, Batu Bolong and Echo Beach are the spots. Well worth a look.

Sanur
Sanur was the first tourist area of Bali and has a languid, chilled out approach to life. There are a number of dining options along Jl. Danau Tamblingan and the hotels along the beach. There are also a bunch of casual restaurants on the promenade along the beach that are worth a try. Nightlife is limited to a few sports bars and old timer restaurants and bars. There are also a couple of live music joints, Casablanca and Nu Lazer. The locals don't call Sanur Snooore for nothing.
Nusa Dua
Nusa Dua now has the new ZJ's club at the Mulia hotel, which sometimes gets a crowd and mainly busy on the weekends. There is also another new spot called Tapa at The Bale. Some excellent fine dining can also be found in the five star hotels in the hotel precinct. The place is a bit of a tourist trap but a couple of decent restaurants can be found on Jl. Nusa Dua heading out of the hotel area.
Jimbaran
Jimbaran has made its name with the fish warungs dotted along the long white beach from the airport to Four Seasons Resort of Jimbaran Bay. Those beach side seafood restaurants continue to pack punters in every night of the week. Four Seasons' new Sundara restaurant right on the beach has tasty sunset sessions with chilled DJ and live music action, and one of the most famous bars in town, the Rock Bar (pictured below) is up the road at the Ayana Resort. This bar is breathtaking and set right on the water's edge, but go early before sunset; it's always busy and has a queue for the inclinator, but you can can always walk down on the left side.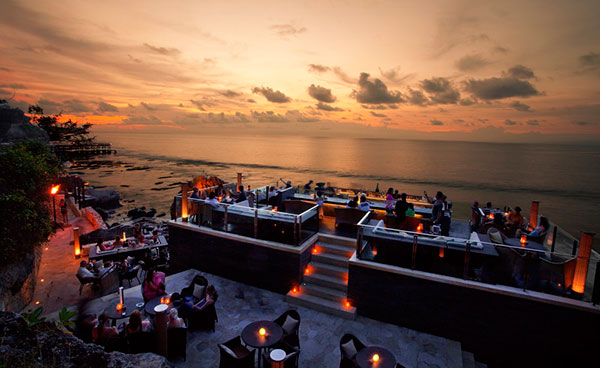 There are plenty of options for nightlife in Bali, from the Euro backpacker in a bamboo beach hut to the high-end Hong Kong banker dining in the one of the best fine dining restaurants in the world, there is really something for everyone. It may take a while or a couple of trips to figure the island's nightlife scene out for yourself or make it easy and just click the links below for more current information on the Bali nightlife.
Read more by clicking below[/vc_column_text][/vc_column][/vc_row]